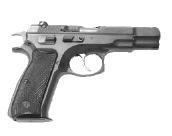 Rasbert Turner, Star Writer
The St Catherine South police recorded their first homicide for 2013 after a man was found dead in Old Harbour on New Year's Day.
The dead man has been identified as Dave Rowe, 36 year old, of Panton Lane in Old Harbour in the parish.
Reports are that about 4:30 a.m. on Tuesday, residents of the area reported hearing explosions.
The police were summoned and responded to the call. Upon arriving at Panton Lane, Rowe's body was found in a pool of blood.
Further checks on the body revealed he had what appeared to be gunshot wounds, the police said.
Meanwhile, Superintendent Clive Blair, Operations Officer for the division, told THE STAR that while Old Harbour recorded the most murders for St Catherine South over the year, the division actually had a 21 per cent decline over the previous year.
Blair said more work will be done to further the fight against crime this year in the division, which also includes the communities of Portmore and Central Village among others.
Investigations into the killing are being undertaken by the St Catherine Major Investigation Task Force.