Leighton Levy, Star Writer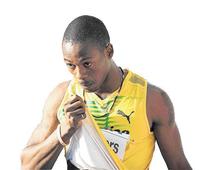 Ricardo Chambers - File
It has been close to four years since Ricardo Chambers has been at his best. Chambers, 29, was on his game back on July 22, 2010, when he clocked a personal best of 44.54 seconds at the Herculis meet in Monaco behind countryman Jermaine Gonzales, who set a national record of 44.40s seconds on that day.
Since his days at Florida State University where he ran a fast 44.71 seconds to cop silver in the 400-metres at the 2006 NCAA Championships, 2010 was perhaps Chambers' best year. In addition to the personal best, he clocked 44.59s to finish second to American Jeremy Wariner in the Continental Cup and was a member of the Americas team that won the mile relay in a fast 2:59.00.
fastest opener
Since then injuries have slowed him to a relative crawl; 46.56s in 2011, 45.71s in 2012, and 46.13s in 2013. But after a cautious start to 2014, Chambers is optimistic that this could be the year when he returns to being his best. In his 400-metre season-opener at the University of the West Indies Invitational on March 23, Chambers finished third in 46.32s, his fastest opener in almost four years.
"I felt great!" he rejoiced after the race. "I didn't execute the race like I wanted to but condition-wise, I felt great. For the past three years, this is the first I feel like this."
Chambers opened his season running 800 metres at a couple of development meets before he stepped down to his preferred event at the UWI meet and he has been pleased with his improvements so far.
"Progress has been going well," he reveals. "Going back to 2010 when I was number three in the world, my times in training and my time trials are very close to the times back then."
Being healthy, he said, is one of the main reasons he feels he is close to being back to his best for this season. "I feel I am going to get back there this year. My fitness level is back where it was, but I am race rusty so once I get a couple more races going I should be alright. And my injuries are finally behind me. Thank God!"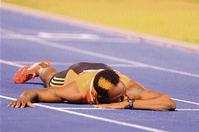 Ricardo Chambers on the track after finishing down the order in the men's 400 semi-final, at 2012 the Supreme Ventures JAAA National Senior Championships.